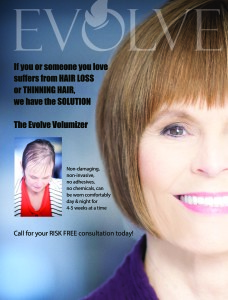 THE SOLUTION
TO HAIR LOSS

OR THINNING HAIR!
The EVOLVE Volumizer is a unique non-surgical, semi-permanent, hair integration system that changes how you look and how you feel about yourself. You can restore your self-confidence today. You don't have to wait months for medications or topical solutions to work (maybe). You don't have to suffer the pain of hair transplant surgery that may or may not give you the results you want.
YOU CAN HAVE GREAT HAIR IN JUST ONE DAY!
Is that really possible? The answer is YES!
See and hear their life changing stories at www.evolvinghair.com.
Here is one of my ACtual Clients from Studiobbr!
The EVOLVE Volumizer does not require tape, glue or adhesives and feels so comfortable, that people forget it's on. The Volumizer is 100% real hand-tied human hair that adds volume and texture.
EVOLVE IS CUSTOMIZED FOR YOU.
We custom fit and style your Volumizer to make it perfect for you. Start your life changing experience today.